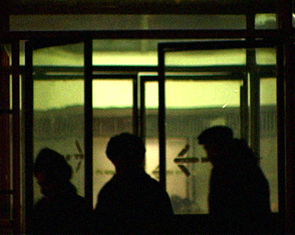 Jarmark Europa
documentary
Jarmark Europa at Warsaw's Dziesieciolecia Stadium, one of Eastern Europe's largest bazaars and a centre for small trade that doesn't appear in any tax declarations. The traders come from a variety of countries in the former Soviet Union. They transport their goods to Warsaw or other cities west of the ex-USSR in unmistakeable bags. In Russian, these traders are known as "chelnoki". The word "chelnok" means "weaver's shuttle" and graphically describes their peripatetic lifestyle. Most of them have exchanged their settled existences for a life of constant movement between their home­town and the bazaar. Many are academics who earn too little to sur­vive. Others are unemployed or retired. The "chelnoki" are pioneering entrepreneurs in a changing society. It is re­mark­able that it is mainly women who prop up their families in this way. JARMARK EUROPA is about two of these women, about me and about how this film came about.
Jarmark Europa premiered at Berlinale Forum 2004.
Distributed by Arsenal institut for film and videokunst.
Addendum
The "Jarmark Europa" in Warsaw no longer exists; and thus the film of the same name that we shot between 2000 and 2004 is now a historical document of a place that carried in its name the longing and commitment to an order that eventually swept it away.
The makeshift, like all makeshifts, lasted an astonishingly long time until it was closed in the summer of 2010. The days of the informal market are, at least in Poland's capital, gone for good (or until the next crisis). In June 2012, the newly built Stadium Narodowy on the grounds of Jarmark Europa hosted the opening of the European Football Championship.
The disparity on which our civisilation is based continues to exist all over the world. In this respect, while this particular place is historical, traders continue to find new ways and new places.
more information in context